Friday blogging fun! If you would like to play along with 5QF, head over and visit Mama M at My Little Life and link up!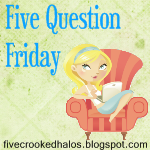 1. Do you know what your REAL hair color is?
Yes, because I've never died my hair. Ever. Unless you count the Halloween spray paint-ish stuff, and I definitely do not because it was gone the next morning. Although darker than it used to be, I am still a redhead!
2. Do you plan ahead for summer, or fly by the seat of your pants?
I'm not a huge fan of summer. Living in Florida it is H-O-T and everyone in my fam has very sensitive skin. So we plan our outings for early morning (HA! Like we do mornings…) or late afternoon/evening and hide when the sun is at it's highest and hottest. Afternoon thunderstorms also typically get in the way of afternoon activities.
I guess the short answer is, fly by the seat of our pants.
3. What is your favorite meal to cook?
Anything that involves pasta. It's so versatile. I also really enjoying baking, especially specialty cookies. Like Red Velvet Whoopie Pies… YUM…
4. Do you get offended by not receiving thank yous?
No. Not at all. I wish more people would write thank you notes just because it's so nice to get something that's not a bill or junk in the mail. I also know that life gets in the way and well intended notes don't get written. Like the ones for my daughter's birthday party almost 2 months ago…
5. How did you meet your best friend?
Well, my bestest friend in the whole wide world is my husband, and we've known each other since elementary school, although we weren't really friends til high school. After that, my closest friends were met at work (in the before kid time) and one is the girlfriend of one of my husband's good friends. They each bring out a different piece of my personality. 🙂