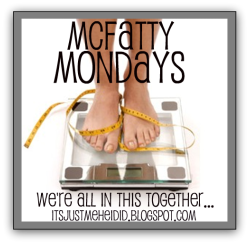 It's time to stop ignoring the scale and post the current number for the world to see.
This week's weight: 156.8
Yep. A gain. Again. I love food. I hate exercise. The combination was bound to get the best of me at some point in my life.
The husband was looking up new fitness plans to inspire him to get moving again and found Fit Yummy Mummy and showed it to me. Despite some skepticism, I'm going to give it a go. Anything to inspire me to move more is a positive. I'll use the McFatty Monday updates to let the blog world know what has worked and what hasn't. Even if my weight doesn't go down, I'm hoping it will have an effect on how my body looks. Time will tell.
For now, I'm off to start Phase 1 and then run some errands while the babe is in school. Wish me luck! I need all the encouragement and support I can get! 🙂