Happy Monday everyone! I hope you're enjoying the return to normal. We're almost back to normal in our house, my husband returned to work today after being off for over a week, but my daughter doesn't return to school until NEXT Monday. Starting then, she'll be going to school TWO days per week instead of just one like she did in the fall. Her school opened up the option for another day and despite some hesitation, I signed her up for it.
Life is really starting to fly by us, especially on her school days, and it seems like I'm missing out on time that I should be spending with her. However, the larger part of me thinks she needs the interactions with other kids, and to push her boundaries trying out new things. I am not good at branching out or getting her to places that allow her to interact with other kids, so she needs it. There will always be that bit of mom guilt though.
Since life is flying by, I still need to finish my 2010 recap post. It makes me smile every time I get the opportunity to add another picture to it. (Warning: It will be a VERY picture heavy post.) We really had a fabulous year, even if I didn't accomplish the goal my husband and I set at the beginning of last year to lose 15% of my body weight (which just barely puts me into the normal weight range for my height). He was able to meet his goal, but is having a lil bit of trouble maintaining it, so we're both going to be making changes again to accomplish the goal.
Speaking of weight, it's time for an update: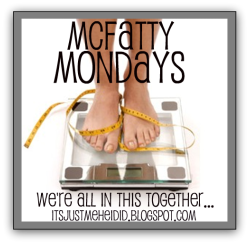 This week's weight: 155.4 (-0.8lbs)
I know that was accomplished mostly through sickness, but I'll take what I can get. 🙂
Now it's time to finish putting the groceries away and squeeze in some reading time before the babe is up from her nap. Although I'm not sure she's actually been asleep yet, but at least she's quiet in there. 😉