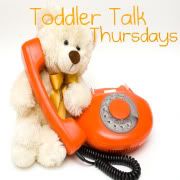 This week's topic is : What gifts do you plan on getting your little one for the holidays?!
This has been a difficult question in our house this year, especially since my daughter's birthday is just 2.5 weeks after Christmas. I already bought and gave her one of the things I put on her Christmas list (Beauty and the Beast on DVD) because I thought it would help during our car trip to NY. And then I left it on the kitchen counter, but that's beside the point. 😉
| | |
| --- | --- |
| | I've deemed the Cozy Coupe a must have because my brother and I had so much fun with his when we were young. Nothing like presenting an almost 2 year old with her very own car! 😉 |
| | I'm not sure if this is the exact playhouse I'd like to have. The husband and I will look more closely when we go out to holiday shop for the babe, but this seems to be an all-in-one design that will amuse my daughter at least for a couple years. |
The problem with those two items, though, is that we don't have a lot of outdoor space. Our cars take up most of our short driveway and there isn't any space out back to ride the Cozy Coupe. The playhouse will fit great in the back yard though! It should focus toddler attention nicely so we're not always chasing her through the neighbor's backyards. 😛
I'm at a total loss for indoor toys. Again, we don't have a ton of space, so the indoor play things (like popup huts or tunnels, or ball pits) aren't a good choice for us. She is totally in love with all things Crayola, but we're still working on things like not coloring on the walls. She's getting better, and seems to know that when mama says no and takes the crayons away that it's something she shouldn't do, but still, every now and then, color gets on the walls that isn't supposed to be there. 🙁
Tips appreciated for holiday gift ideas or Crayola cleanup. 😉
P.S. It's also time to refill the closet with next year's size, but kids never REALLY want that until they get into their teens!