Is almost laughable. 3.11 miles (Hey! That's a 5k! :)) in 58 minutes 46 seconds. A yoga cooldown has never felt so good… Child's pose, Upward facing dog, Downward facing dog, and tree (I think it was tree, might have been mountain. Too lazy to look it up.) Now I'm typing this and downing some water before I go shower and pick up the babe from school. (Side note: She's doing SO well now! No more tears! Yay!)
Why did I torture myself with an attempted run this morning? For the same reason I used FitTV yesterday to complete two 10-minute ab workouts. Because there was some FABULOUS food at our weekly party on Saturday night, and I ate. I ate so much that…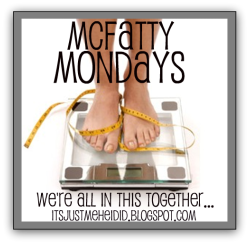 This week's weight: 157.2
I'm disappointed, but not surprised. I wish I'd taken a picture of the spread we had out on Saturday night. There was celery, carrots and two kinds of hummus, crackers w/ summer sausage, tortilla chips and chili cheese dip, deluxe mixed nuts (no peanuts), smoked almonds, cocoa roasted almonds, dark chocolate brownies, mint chocolate delight cookies, white chocolate raspberry bars, teacakes, chocolate chip cookies, peanut butter cookies, and dark chocolate cookies.
And of course, water, coffee, beer and Diet Coke. 😉 I told you there was good food, and this happens a LOT during the holidays, as I'm sure we're all aware. The inner bakers come out and next thing you know you've gained 5 pounds. Normally, this is not an issue, but I REALLY need to LOSE weight. So yesterday I did two ab workouts and today I tried to run.
I'm sure the real runners of the world already know this, but let me tell you all a few things I learned today during my run.
1) Wear real running shoes. Or else you might end up like me with pinky toes rubbed so raw that I took my shoes off and did the last third of a mile in my socks. I'm sure there are a few heads shaking over that…
2) Stretch more than you have ever stretched before. Especially your shins and arches, or you will HURT. I thought I did a good job, but I'm already starting to feel that I didn't.
3) Music helps the time go by.
4) Even when it's cooler outside, make sure you drink plenty of water. Or you'll feel THAT later too, to the tune of a monster headache and some serious stiffness. So far, I have none of that, so maybe I did ok on the water intake.
5) Start with a good breakfast. Mine barely counts, Starbucks tall non-fat Caramel Brulee Latte w/ no whip and Banana Walnut bread.
Time to take a hot shower and get the babe. Then it's time for me to get back to baking! I found a recipe in an old Cooking Light magazine for Peanut Butter Banana Bread. 😉