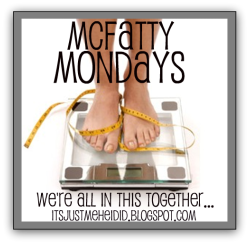 The title of this post, while created on the car ride home from New York, also aptly explains why this is being posted on Tuesday, rather than its assigned Monday. The race to get home Sunday night, bathe the babe and get her excited-to-be-home self in bed, get her to school Monday morning and begin the process of getting back to normal caused Monday to just FLY by. I didn't even get my laptop set up and plugged in until 7pm. Yes, I was getting the shakes by that time. 😉 Now, on to the McFatty report!
This week's weight: 156.6
After a week of traveling the U.S. east coast by car, living out of hotels, and enjoying a magnificent Thanksgiving feast, I am completely ambivalent towards the number on the scale. Despite feeling physically fat and lazy, it was a mentally and emotionally satisfying week. What more can you ask for of a family holiday?
A longer recap of our vacation is forthcoming, but for now I'll say I missed my mom and brother, and wish my brother didn't work in retail so that they could have come with us. My daughter is the most amazing almost 2 year old on the face of the Earth, and I am so proud of her adaptability last week. I'm impressed by my husband's ability to drive for hours on end listening to an audiobook (Fatal System Error by Joseph Menn).
Florida and Georgia are very flat and boring to drive. South and North Carolina have GORGEOUS fall colors right now, and along with gentle rolling hills make for an enjoyable ride. Virginia offers great mountain views, as well as some great food and gas options. We spent so little time in West Virginia and Maryland that it's hard to have an opinion.
I never want to go through Pennsylvania again (If anyone from there can tell me why I SHOULD go again, please let me know!). The roads are terrible and the people are rude and seem unhappy. The only saving grace was the Crayola Factory in Easton. Upstate New York is full of sleepy farm towns, but many of them are finally getting big city amenities (like Barnes and Noble and Panera! ;)).
Now I'm off to continue Monday's chores and to get all of the babe's school and Christmas pictures picked up. This is definitely going to be a fun month!