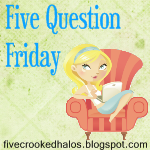 Rules for Five Question Friday: Copy and paste the following questions to your blog post, answer them, then link up! If you don't have a blog, or already wrote a post, then feel free to leave your answers in the comments!
1. Have you ever visited another country?
Yes! Jamaica, Grand Cayman, and St. Maarten. Hoping to add a few more to that list!
2. Where is the strangest place you have ever been?
St. Thomas. Even though it is a U.S. Virgin Island, it's a little intimidating outside the tourist district. It doesn't resemble the U.S at all, it much more closely resembles the other islands.
3. What is your favorite season?
Winter! Because I live in Florida, it's the only time of year where you don't sweat the minute you roll out of bed.
4. What one song will always cheer you up?
I have to pick one??? Ummm… Wow… Let's say Rihanna's Don't Stop the Music.
5. What Disney character do you resemble most?
Ariel the Little Mermaid. It's mostly cuz of the red hair. I'm not that skinny, nor am I able to swim like a fish. I used to be that skinny, but I've never been a swimmer. Personality-wise… Well, I'm going to need some help figuring that out!